We make difficult products realizable and talk to clients on their language.
1. Determine aims and tasks
We learn the customer's problem. The real one but not the one was in the first letter. People need not the websites but sales. We determine targets that put on SMART.
After determining we offer solutions and approximate cost.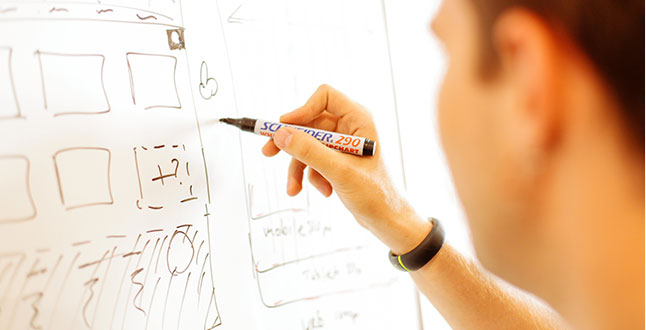 2. Planning the structure
We study the work of current website of the customer, its advantages and disadvantages. We study the niche and competitive offer.
We design clear and effective interaction of the user with the interface.
We prepare project's structure, draw prototypes, wrap it into technical task with the work description not seen by eye.
3. Design – conception implementation
We create the website design on the basis of confirmed prototype that differentiate you from competitors.
Not conventionally but the design created for your business model. We want to distinguish you from competitors, but not copy them.
We confirm design – conception, meticulously draw all the pages.
4. HTML-coding. Frontend
We make up all design layouts adaptively for mobile devices and crossbrowser.
We optimize layouts' graphics for different devices for high speed download of each page of the website.
5. Programming and integration. Backend
We join have been prepared on previous step layouts and resource functional. We make integrations with necessary accounting systems (SAP, Microsoft Dynamics and etc.)
We create and support websites on CMS "1C – Bitrix".
6. Technical support and project development
Internet is actively developing, algorithms of searching systems and uses' technologies are changing.
To be up to date we offer active support, monthly project analysis and insertion of new technologies.
The client gets a modern website that will distinguish the company on the Internet and help to solve business problems.